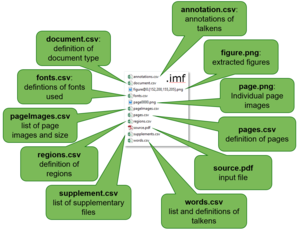 Image Markup File (IMF) is a file format used to store and exchange annotations made to a PDF reliably. IMF is an open source format. The file is based on a star schema with a series of CSV, PNG and the source file enclosed in a .ZIP file.
IMF can be created, opened with the open source editor GoldenGate, from where the parts can be exported as XML, or Darwin Core Archives or uploaded to TreatmentBank.
IMF is used by Plazi to mine and annotate documents in PDF format.